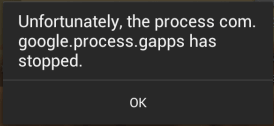 Today I came across a popup dialogue box after my nexus 4 started. The screenshot above shows the error, I have seen that many of people in a lot of forums have experienced the same problem. On some devices it shouldn't really matter but on my Nexus 4 it was popping up constantly until the system crashed and then I needed to restart my phone.  This post will give step by step guide how to fix the error.
How to fix "the process com.google.process.gapps has stopped" or "google.process.gapps has stopped unexpectedly"
Just follow these steps:
Go to menu
Go to settings
Go to apps
Look for download manager under ALL (on my Nexus 4 was under ALL tab)
Disable and then re-enable it
That should now resolve the problem.
If the issue is not fixed then follow these steps:
Got to menu
Go to settings
Go to apps
Press menu on old phones or actionbar menu on new phones and select Reset app preferences (see screenshot below)
Reset apps screen (see screenshot below)