At 2015 Google I/O keynote, Google focused mostly on the optimisation of Android platform. The updated version will roll out to other Nexus devices, and within a few months to flagship phones and tablets until late 2015/early 2016. A lot of the updates involved reducing friction: there were updates to Android designed to make moving between apps and the web smoother, updates to Android Wear designed to make it easier to glean information from watch faces at a glance, and a new photo app that will organize all your pictures and back them up for free.
Here are 10 highlights I think deserve your attention.
Android M
Android M looks a lot like its predecessor Lollipop. It's more like a reorganization of Android, with power optimization, new services, and changes to how your apps interact. If you're a developer, you can check out the preview today. Otherwise, you'll be getting it later this year.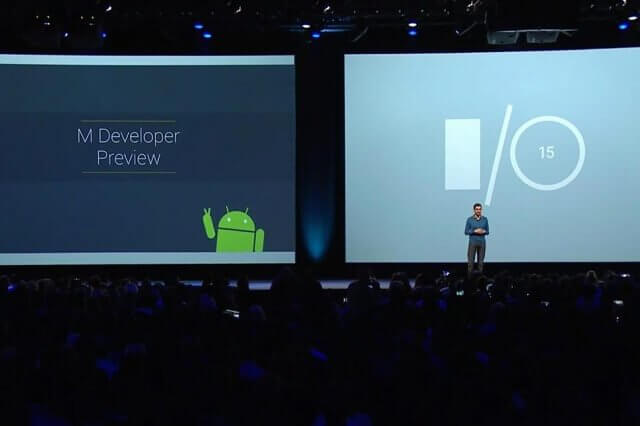 APP PERMISSIONS GET LESS INTIMIDATING
In the past, Android devices have handled permissions by presenting them all up-front when a device is installed from Play Store. This can overwhelm users with information, however, encouraging them to click through before they fully understand. Android M will combat this will dynamic permissions that appear only as needed; if a selfie app wants to access your camera, for example, it'll ask permission only when you first take a photo, rather than at installation.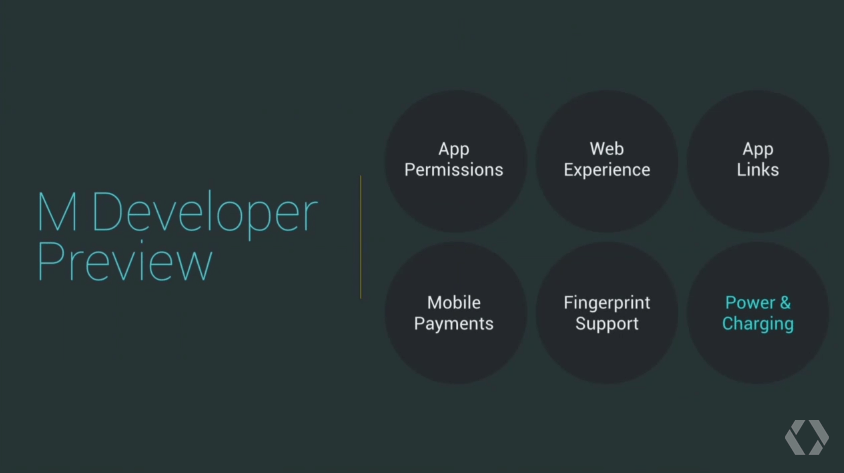 CHROME INTEGRATION IN ALL YOUR APPS
Right now, when you click on a web link from within an app, you either have to load the browser or use a stripped-down web view in the app. Google announced something called Chrome Custom Tabs, which looks like an in-app Chrome browser and is supposed to make loading pages faster by preloading certain elements, including passwords and autofill. Google also announced measures to make it easier for apps to link to other apps, for example, loading the Twitter app automatically when you click on a link to a tweet.
BETTER BATTERY LIFE AND USB-C
In an effort to save battery life, Google introduced a new feature called Doze. Android M uses motion detection to go into deeper sleep if inactive for longer periods of time. Google said it trades "app freshness" for battery life. While dozing, devices can still respond to high-priority messages and use alarms. In a test against a Nexus 9 running Lollipop, Google, said the M Nexus lasted up to two times longer in standby. USB Type-C will also be supported on Android.
GOOGLE NOW ON TAP
The feature is designed to improve Now's ability to respond to context by analyzing what's currently on an Android device's screen. When you're looking at an email, for example, Now will be able to bring up related information; if it's a movie date suggestion from a friend, it will present you with movie times and information.
Google Now will have the ability to respond to more natural questions by understanding the context of what's on your display. In a demonstration, a user asked the real name of an artist while listening to his music, and Now retrieved the information without the artist name being included in the question.
A NEW GOOGLE PHOTOS APP WITH FREE ONLINE STORAGE
Photos is the latest in a family of Google offerings that started with Picasa. This time around the company is focusing on organization, providing advanced zoom and sorting features to make photos easier to find. There's also an automated video editor that can create highlight reels of your adventures. The big news, though, is unlimited free storage of photos and videos. This is available to all photos below 16 megapixels and videos up to 1080p resolution. Photos will be able to sync with Android devices and PCs.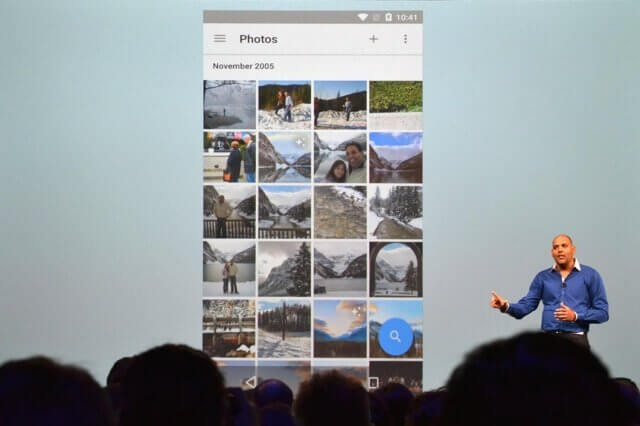 OFFLINE MAPS AND CHROME FOR DEVELOPING COUNTRIES
A new streamlined search results page will load faster with a spotty connection and optimize pages to load fewer images. Google already lets people save YouTube videos offline in some countries, but now, Chrome will also be able to save pages for offline use, and Google Maps will be able to run a bunch of features offline. In an onstage demo, it could autocomplete searches, show reviews and information, and give turn-by-turn directions offline. Maps is incredibly useful, but only if you have a data connection. Google is working to change that with an offline versions of Maps that will include turn-by-turn directions.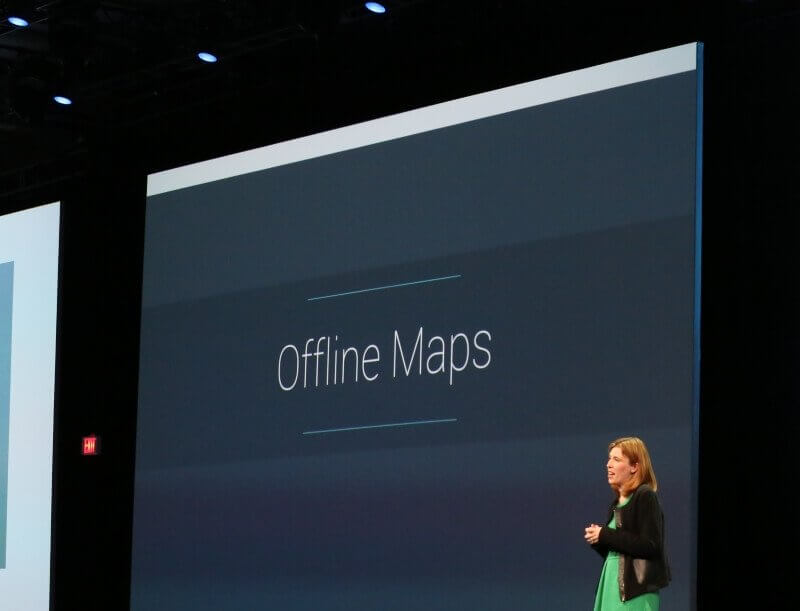 ANDROID PAY GETS CLOSER
We're getting some more details about Android Pay — which is both Google's answer to Apple Pay and a second chance for the largely failed Google Wallet service. Android Pay will let you make purchases in apps or tap an NFC sensor to pay for physical goods. Android Pay will work with phones running KitKat and higher, and it's supposedly being pre-installed by AT&T, Verizon, and T-Mobile; Google promises 700,000 stores will accept it, including Chipotle and Dunkin Donuts. And if your phone has a fingerprint sensor, you can use it to authenticate payment.
NEW, IPHONE-COMPATIBLE GOOGLE CARDBOARD
Speaking of which, Cardboard received some love at the conference. The cardboard VR headset has a new design that makes assembly easier and can handle phones with screens up to 6 inches. Support for iOS is being included, too, which is good news for iPhone 6 Plus users.

A VR CAMERA RIG FOR EVERYON
360-degree virtual reality video may sound batty, but Google thinks it has promise, and is supporting it with an initiative called Google Jump. Its headliner is a crazy 16-camera rig called the Array. Built by GoPro, it can record high-definition film in all directions simultaneously. Jump videos recorded by the array, or other 360-degree cameras, will be hosted on YouTube. From there they can be viewed on virtual reality devices including Google's inexpensive Cardboard.