Just received a notification regarding the upgrade I was looking for. Finally Android Lollipop available to Nexus 4
The official Android Twitter account confirmed the roll out last week with a post that reads, "Android Lollipop roll-out has started and will soon be available on most nexus devices. Dessert is served." According to the release note, the Lollipop upgrade with build version LRX21T weighing 394.4MB introduces a bold new visual style, improves performance and adds features.
In case you also own a Nexus 4 and wish to install the OTA update manually, and if it has not hit your region until now, head over to the installation guide.
Key-notes
Uninstall any modifications you may have on your Nexus 4, such as XPosed and Adblock or else the update will fail. Note that XPosed in not compatible with Android 5.0, hence you cannot install it after the update.
Install Minimal ADB
Verify that your Nexus 4 has above 80% of battery charge.
The Android Lollipop OTA file works only with Nexus 4 and applying this on any other device could brick the device.
How to install Android 5.0 Lollipop OTA update on Nexus 4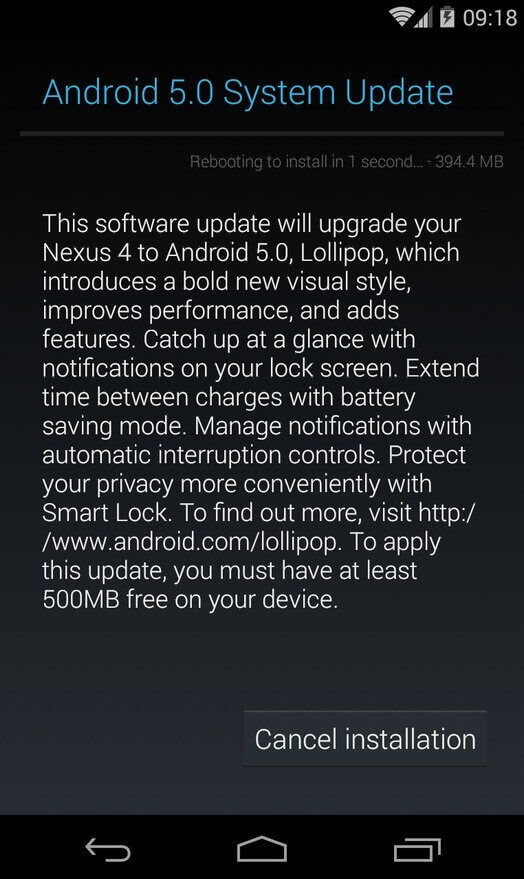 Step-1: Download Android 5.0 OTA update for Nexus 4 [Alternate link]
Step-2: Connect the Nexus 4 to your PC using USB cable
Step-3: Open Minimal ADB, enter adb reboot recovery and press
Step-4: Once the device reboots you should be able to see the recovery screen. Now tapPower and Volume Up buttons at the same time. A menu should pop-up
Step-5: If the aforementioned step fails, just retry until the menu pops up
Step-6: Using the Volume buttons select apply update from adb and select it with thePower button
Step-7: In Minimal ADB enter adb sideload (and give some space after sideload), then drag the update file into the command prompt. This will automatically insert the filename for you. Now press return and wait until the update is completed
Step-8: Nexus 4 should now reboot and start optimising the installed apps
Note: If step-7 fails, this compatible driver should help you out.
You should now be having Android 5.0 update installed and running on your Nexus 4.